More Events to come later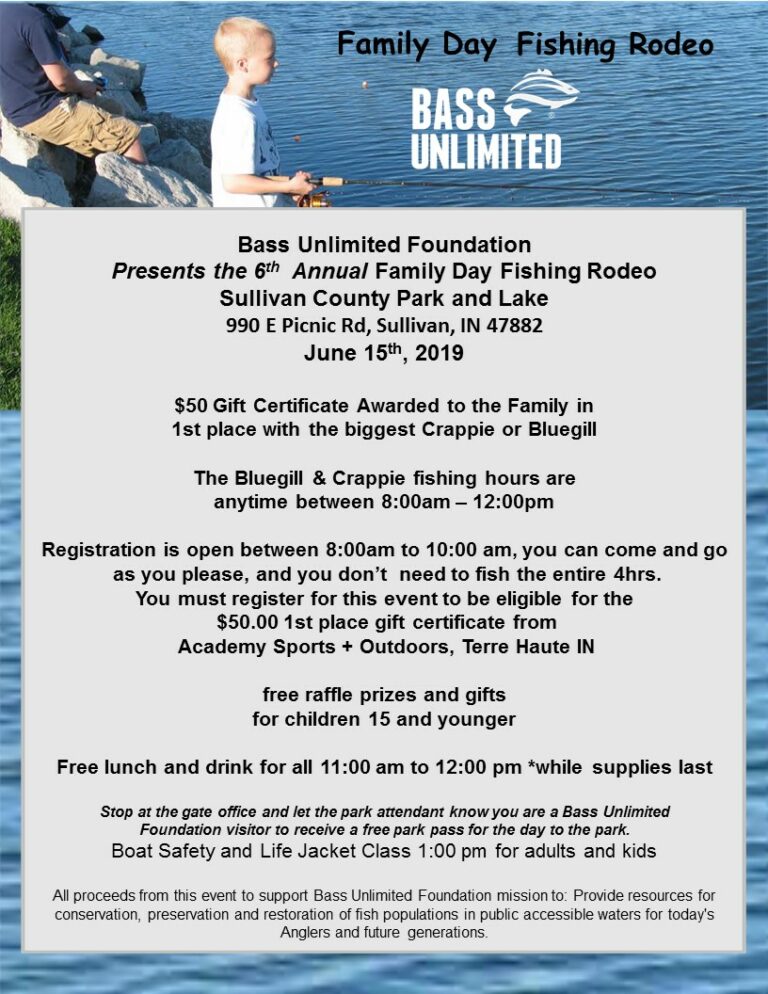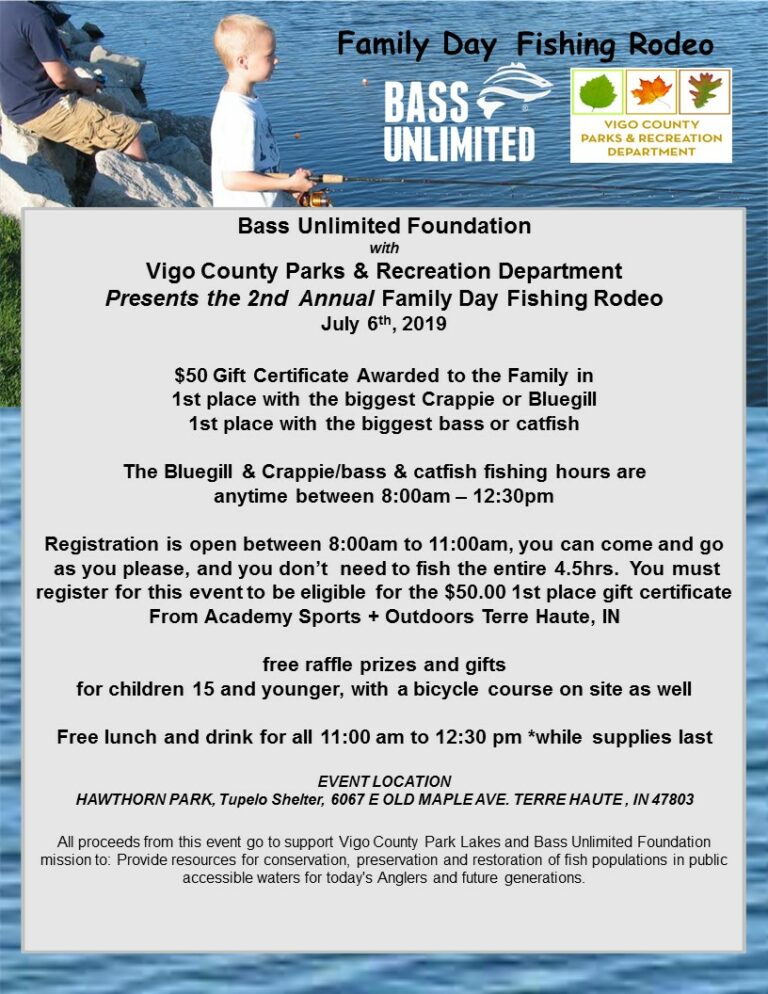 BASS UNLIMITED FOUNDATION 

                               

                             CELEBRATES FIVE YEARS OF SUCCESS
                                                        A special Five Year Anniversary Celebration 
                            Thursday September 12 between 6:00 PM and 7:30 PM at the Fowler Park Barn.
             Cake and ice cream will be served to the volunteers, general public and Bass Unlimited Officers.                        
A grassroots movement to improve habitat for freshwater fishes has been underway in the Wabash Valley and beyond over the past five years. Bass Unlimited is a volunteer organization aimed at creating sustainable habitat for all species of freshwater fishes and for preserving fishing for future generations. The organization is the brainchild of Carol Newlin of Terre Haute, Indiana, and she and her husband Wil work tirelessly with volunteers to build underwater habitat and to educate youngsters about the rewards of conservation and stewardship of our natural resources.
Alan Mulally, retired President and Chief Executive Officer of Ford Motor Company, commented, "Leadership is having a compelling vision, a comprehensive plan, relentless implementation, and talented people working together." Through the leadership of Carol and Wil Newlin volunteers have produced impressive results with Bass Unlimited projects, youth fishing events, and education programs. In their own words, Carol and Wil believe, "If we can make it more likely that people will gain enjoyment from fishing, the more likely they will be to take care of and improve the resource." Their compelling vision, their comprehensive plan, and their ability to attract dedicated volunteers have made the first five years of the organization an overwhelming success.
Merv Jarvis is a Bass Unlimited Board Member who has been instrumental in helping the organization achieve their vision. "I don't know how Carol and Wil have any personal time for anything else besides their efforts to build habitat and to conduct youth derbies and tournaments." Merv says of the efforts of Bass Unlimited, "It works!"
Adam Grossman, Vigo County Parks Superintendent has been a Bass Unlimited Board Member for the past two years on projects at Fowler Park, Hawthorn Park, and other county public access lakes. He says, "These two years have been most rewarding. I have gotten involved with the Bass Unlimited group because I hope we can spread to other areas the vision Carol and Wil have regarding conservation and fishing in the future."
Dewey Colon, Board Member at Sullivan Lake, commented, We have made tremendous progress with underwater habitat improvement with the help of the Newlins." Damin Golish, Superintendent of Sullivan Lake explained, "The important thing about the work that we have been able to do with Carol's and Wil's help and guidance is the fact that we have seen unwavering steady improvement, not only in the quality of the habitat and the fishery, but also growth in the number of people who are having success fishing in the lake."
Thomas Lahay, a retired Indiana DNR Conservation Officer with thirty years of experience remarked, "On our initial project Carol and Wil arranged for a couple of semi-loads of material which we placed in the lake with dozens of volunteers who showed up, all as a result of the enthusiasm and dedication of Carol and Wil. They do things in a big way."
Bass Unlimited has spread to at least five states and they are moving forward organizing local chapters in a number of states to involve additional volunteers. Congratulations is extended to this fine organization, and their record promises many more years of successful improvements in fisheries habitat and freshwater fishing for all species, not just bass.
A special Five Year Anniversary Celebration will be held on Thursday September 12 between 6:00 PM and 7:30 PM at the Fowler Park Barn. Cake and ice cream will be served to the volunteers, general public and Bass Unlimited Officers.
Thanks to Carol and Wil Newlin and their many talented volunteers and sponsors          
Bass Unlimited is looking for an additional 8-12 volunteers to help with the building of aquatic habitat structures at Fowler Park in Terre Haute, Indiana. These structures will be put in Ruble Lake to make fishing better for the anglers of today and future generations. Our build day will be on Saturday, Oct 19th from 10am-:30pm. Volunteers should dress appropriately for the weather forecasted. Work will be performed under a shelter should it rain. Volunteers are encouraged to bring work gloves, hand drills if possible; but it is not mandatory. Bass Unlimited Foundation will have some tools on-hand for this build. See the picture below of the type of habitat being built and thank you for your help and support